A cancer prevention diet starts with fiber to reduce your overall cancer risk. But did you know that high fiber foods should also be a staple in a breast cancer prevention diet?…
INTRODUCTION
A high-fiber diet begins with eating natural, minimally processed, plant-based foods such as legumes, vegetables, and fruits. You will find our list of high-fiber foods here and a menu plan (with recipes) that ensures 15 or 20 grams of fiber in a day.
Studies have shown that a high fiber diet may lower the risk of breast cancer, potentially due to the ability of fiber to regulate hormone levels, which can play a role in breast cancer development (more on that below). However, other studies have not found a significant association between fiber intake and breast cancer risk. Individual factors such as age, overall diet, and lifestyle (e.g., stress) may be the reason for these varying results. Therefore, while fiber is needed for an overall healthy diet, you should not solely rely upon it as a means of breast cancer prevention. We have written on a breast cancer diet and preventing a breast cancer recurrence for what "healthy eating" consists for breast cancer survivors.
BREAST CANCER PREVENTION AND FIBER
In our last post, we discussed the health benefits of fiber in a cancer prevention diet and presented info on how it reduces the risk of certain cancers by up to 60%. The exact mechanisms by which fiber intake reduces the risk of breast cancer is not yet fully understood, however this does not mean you can't benefit from fiber's health benefits.
1. LOWERS BREAST CANCER RISK BY 11% AND 17% 
These results were published in the Nurse's Health Study (88,000 women) and Nurse's Health Study II (over 93,000 women), which followed the lifestyle habits of women since 1980 and 1991, respectively
The study found that women who ate 5.5 or more servings of fruits and vegetables daily had an  11% lower risk of breast cancer compared to women who ate 2.5 servings or less
Eating more than 4 servings a week of both orange/yellow and cruciferous vegetables had a 17% reduction in breast cancer [1]
2. LOWERS RISK OF A BREAST CANCER RECURRENCE BY 12%
Studies that followed breast cancer survivors to determine their fiber during the 12 months after a diagnosis found a significant 12% decrease in death due to the disease (1,092 study participants)
Though the evidence is limited due to there being just three published studies on this topic, the outcomes suggest that fiber intake may benefit breast cancer survivors [2]
3. EVERY 10 GRAMS OF FIBER LOWERS RISK BY 5%
A recent study found that for every 10-gram increase in fiber intake, breast cancer risk decreased by 5%
This dose response (i.e., as the dose increases, the outcome is affected) remained even when more than 30 grams of fiber in a day was consumed [3]
4. LOWERS RISK IN TEEN GIRLS BY 24%
To protect your teenage daughters and granddaughters, provide them with a high-fiber diet. Studies now confirm it may reduce the risk of pre-menopausal breast cancer by 24%

These same studies show that the lifetime risk of breast cancer drops by 16% for teens and young women eating a high-fiber diet [4]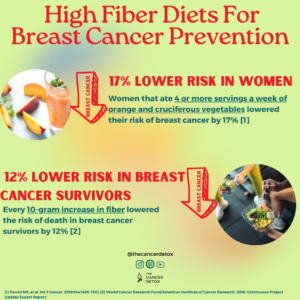 Here's To Your Best Health!
Dee Grace, PhD
Hi! I am Dee Grace Ph.D., Scientist and Coach at The Cancer Detox. My career in cancer research has allowed me to work with doctors to find new treatments. I help patients get better care from their doctors during their cancer treatment process, so the focus is on them and improving their survival outcomes. I also show people how to adopt a cancer prevention diet and lifestyle that is rooted in science. Schedule a complimentary call (click here) with me now and get a top cancer prevention tip (spots fill up quickly because I am busy researching and helping clients, so schedule soon!).
References
[1] Farvid MS, et al. Fruit and vegetable consumption and breast cancer incidence: repeated measures over 30 years of follow-up. Int J Cancer. 2019;144:1496-1510.
[2] World Cancer Research Fung/American Institute for Cancer Research. Continuous Update Project Expert Report. 2018. Diet, nutrition, physical activity and breast cancer survivors.
[3] Dong J, He K, Wang P, Qin L. Dietary fiber intake and risk of breast cancer: meta-analysis of prospective cohort studies. Am J Clin Nutr. 2011;94:900-905.
[4] CBS News, Mary B Marcus. Teen eating habits may help cut breast cancer risk. February 1, 2016.