In our last post, we dispelled the myth that high-fiber foods mostly consist of whole grains and bran muffins. If you want to increase your fiber intake, start with vegetables and legumes. If you're serious about adopting a cancer prevention diet, we've got some recipes for you below…
INTRODUCTION
In our last post, we dispelled the myth that high-fiber foods primarily consist of whole grains and bran muffins. To increase your fiber intake, start with vegetables and legumes. Fiber is found in all plant-derived foods, such as vegetables, fruits, whole grains, and legumes (e.g., beans).
IN THIS ARTICLE, YOU WILL: 
Get a cancer prevention diet plan that provides 15 grams of fiber (it's also a great colon cancer prevention diet plan)
Learn how fiber helps prevent cancer
Get a list of high-fiber foods and learn how people with colon cancer risk factors decreased these just by switching to a high-fiber diet (NOTE: this addresses healthcare disparities in African Americans as it relates to colon cancer risk)
If you like this info, then sign up for the early-bird list for my NEW BOOK "Cancer Prevention: Diet and Lifestyle Factors that Reduce Your Risk." Get a 50% discount off regular price during pre-release + an e-Guide on Spirulina for weight loss, heart healthy, skincare, and eye health
HEALTH BENEFITS OF FIBER
What is fiber? It is the structural part of the plant and consists of many sugar molecules strung together (hence its name polysaccharide; poly = many; saccharide = sugar). Fiber is a non-starchy polysaccharide that humans cannot digest due to the lack of certain bacteria in the human gut. Because of this, fiber passes through our digestive system relatively intact, hence it is known as "roughage." [1]
It's recommended that adults consume around 25 to 38 grams of fiber per day, depending on age, gender, and overall health. Most Americans consume do not eat enough fiber! On average, only 21 – 38% of the daily recommended 30 grams of fiber is eaten (that's about 6.3 grams –  11.4 grams). [2] This is one reason a low-fiber diet has been implicated in causing obesity, colon cancer, and cardiovascular disease.
As the saying goes, Rome was not built in a day, and neither is meeting these fiber recommendations. Therefore, increase fiber intake gradually, especially to avoid digestive discomfort. Also, drink plenty of water when consuming a high-fiber diet to aid digestion, as water helps push stools through the digestive tract.
Here are just a few of the AMAZING health benefits of  fiber below (including its impact on cancer prevention):
1. FIBER ABSORBS TOXINS
Fiber binds toxins in the body and eliminates them through the stool.

Fiber also speeds up the time it takes for the stool to travel through the digestive system. This reduces the exposure time the toxins are in contact with the cells of your colon

,

hence the reason why increasing fiber intake has been shown to reduce your risk of colon cancer. [3] Less cell damage = less risk of disease
2. FIBER IMPROVES DIGESTION
Insoluble fiber adds bulk to the stool, preventing constipation and promoting regular bowel movements. It can also help prevent or alleviate conditions like hemorrhoids and diverticulosis. Soluble fiber can help regulate blood sugar levels and lower the risk of developing type 2 diabetes
3. FIBER LOWERS CANCER RISK BY 14%
30.4 grams of fiber per day can 

reduce the risk of all types of cancers by 14%. 

And in people who have inherited a gene that increases their risk of colon cancer (i.e., Lynch syndrome), they 

reduced their risk of gastrointestinal cancers by 60%

 

when they added 30 grams of fiber to their diet. [2]
4. FIBER IMPROVES GUT HEALTH
Fiber increases the number of healthy bacteria in the gut, thus improving your gut health. While humans may be unable to digest fiber, the bacteria in our guts utilize it. Adequate fiber intake increases a specific type of fatty acid (short-chain fatty acids), which 

increases healthy gut bacteria. 

Fiber acts as a prebiotic, and these bacteria thrive on it, thus helping to maintain a healthy gut environment, support immune function, and may even impact mental health.
5. FIBER BUILDS A HEALTHY COLON
There are billions of cells in your body. Healthy cells = a healthy body, and fiber makes healthy cells. A diet high in fiber forces bad cells in the colon to self-destruct (a process known as "apoptosis").
Now that you are clear about how important fiber is in a cancer prevention diet let's start eating more fiber! Below you'll find a basic diet plant that provides 15 grams of fiber daily, along with recipes for all meals. Enjoy!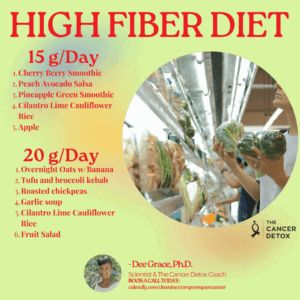 15 GRAMS OF FIBER A DAY (MEAL PLAN & RECIPES)
As previously mentioned, most Americans only get 21% – 38% of the recommended 30 grams of fiber daily. [2] That's approximately 6 – 11 grams of fiber daily, less than half the recommended daily amount. While there is limited evidence on fiber and cancer prevention, the data suggests that 30 grams of fiber reduces the risk of certain cancers. To me, this is enough to support its addition to a cancer prevention diet plant.
If you are one of those people who only eat 10 grams or less of fiber daily, start by increasing your daily fiber intake with this 15 grams a day meal plan and recipes below.
1. PEACH AVOCADO SALSA
INGREDIENTS:
• 2 fresh peaches – peeled, pitted, and diced
• 1 jalapeno pepper, seeded and minced
• ½ red onion, minced
• ½ red bell pepper, minced
• ¼ cup chopped fresh cilantro, or to taste
• 2 cloves garlic, grated
• ½ lime, juiced
• ½ lemon, juiced
• salt and ground black pepper to taste
• 1 avocado – peeled, pitted, and diced
RECIPE:
• Gently mix peaches, jalapeño, onion, bell pepper, cilantro, garlic, lime juice, andlemon juice in a bowl; season with salt and pepper.
• Cover the bowl with plastic wrap and refrigerate for at least 30 minutes. Fold
avocado into salsa to serve
Nutrition Facts: Calories 112 calories; Fat 7.5 g; Carbs 12.6 g; Protein 1.7 g; Sodium 8.8 mg; Fiber 5 g
Saturated fat 1.1 g
2. CHERRY BERRY LIMEADE SMOOTHIE
INGREDIENTS:
• 1 ¼ cups cherries, pitted and halved
• ½ cup chilled coconut milk
• ¼ cup strawberries, stemmed and hulled
• ½ banana
• 1 lime, juiced
RECIPE:
• Place cherries, coconut milk, strawberries, banana, and lime juice in a blender.
Cover and blend until smooth.
Nutrition Facts: Calories 208.6 calories; Fat 13.1 g; Carbs 24.7 g; Protein 2.7 g; Sodium 7.8 mg; Fiber 3.8 g; Saturated fat 10.9 g
3. GREEN BROCCOLI SMOOTHIE WITH CARROT AND PINEAPPLE
INGREDIENTS:
• 6 3/4 tablespoons broccoli fresh or frozen, florets and/or stem
• 1 handful spinach
• 1/2 carrot
• 6 3/4 tablespoons pineapple fresh or frozen
• 1/2 avocado peeled and pitted
• 1/2 lemon juiced
• 1 teaspoon fresh ginger
• 7/8 cup water
RECIPE:
Blend it all together and enjoy!
Nutrition Facts: Calories 60 calories; Fat 4 grams; Carbs 7 grams; Protein 1 gram; Sodium 15 milligrams; Fiber 3 grams; Saturated fat 0.5 grams; Sugar 3 grams
4. CILANTRO LIME CAULIFLOWER RICE
INGREDIENTS:
• 1 head of cauliflower (washed)
• 1/2 yellow onion (diced)
• 1 clove garlic (minced)
• 2 tablespoons olive oil
• salt and pepper (to taste)
• 1 lime (juiced and zested)
• 1/2 cup cilantro (finely chopped)
RECIPE:
• Slice the cauliflower head in half and use a knife to remove all the florets. Cut some of
the larger florets into smaller pieces so they'll fit within the chute of your food
processor.
• Insert the grater adapter into your food processor and start feeding the cauliflower
florets through the top. Depending on the size of your food processor, you may have to
empty it halfway through.
• Heat the olive oil in a large pan and sauté the diced onion and garlic for a few minutes,until its translucent.
• Add the cauliflower rice to the pan and sauté for another 5-7 minutes. Season with salt
and pepper to taste.
• Add in the lime juice, lime zest and chopped cilantro. Toss everything together and
serve immediately!
Nutrition Facts: Calories 110 kcal; Fat 7 g; Carbs 11 g; Protein 3 g; Sodium 45 mg; Fiber 4 g; Saturated fat1 g; Sugar 4 g
5. YOGURT POPS
INGREDIENTS:
• 3/4 cup blueberries
• 2 T. granulated sugar (divided)
• 6 oz. lemon yogurt
• zest of 1 lemon
• 3/4 cup strawberries (diced)
RECIPE:
• Have a 4-cavity mold on hand to fill.
• In a small saucepan, add in the blueberries and 1 tablespoon of sugar. Let it cook on
medium heat for five minutes. Stir occasionally and use the back of your wooden spoon to smash the blueberries a little.
• Remove from the heat and place into a blender or food processor. Blend until smooth.
• Pour about 1 ½ to 2 tablespoons of blueberry puree into each of the popsicle cavities.
• Place into the freezer for about 10 minutes. Meanwhile work on the other two layers.
• In a sandwich bag, add in the yogurt and lemon zest. Remove any air from the bag and
close it up. Work the zest into the yogurt by pinching the bag and moving the yogurt
around.
• Add the diced strawberries and the remaining 1 tablespoon of sugar into the saucepan. I rinsed out the small saucepan from earlier and used that. Let cook over medium heat
for five minutes. Stir occasionally.
• Rinse out the blender/food processor and add in the strawberry mixture. Blend until
smooth. Set aside.
• Cut the corner out of the bag. Pipe the yogurt on top of the chilled layer of blueberry
puree. Try to divide the yogurt up evenly. Tap the mold on the counter to even out the
yogurt.
• Spoon 1 ½ to 2 tablespoons of the strawberry puree into each cavity to top them off.
Add your sticks in.
• Freeze overnight or until firmly set.
• Run the bottom of the mold under warm water for a few seconds to help unmold the
pops.
• Pull the pops out. Eat immediately or place in a freezer bag and store in the freezer
until ready.
Nutrition Facts: Calories 147kcal; Carbohydrates 28g; Protein 4g; Fat 3g; Saturated Fat 2g; Polyunsaturated Fat 1g; Monounsaturated Fat 1g; Cholesterol 11mg; Sodium 40mg; Potassium 257mg; Fiber 2g; Sugar 24g; Vitamin A 121IU; Vitamin C 38mg; Calcium 115mg; Iron 1mg
Here's To Your Best Health!
Dee Grace, PhD
Hi! I am Dee Grace Ph.D., Scientist and Coach at The Cancer Detox. My career in cancer research has allowed me to work with doctors to find new treatments for this disease. I brought my knowledge to help patients get better care from their doctors during their cancer treatment process, so the focus is on improving their survival outcomes and reducing the financial burden.  If you are a cancer patient Schedule a complimentary call with me now to discuss how to reduce your financial burden and 5 questions every patient needs to ask their doctor after a diagnosis (spots fill up quickly, so schedule soon!).
I also ignite people's passion to adopt a "prevention first!" mindset. Why? Because, so you don't have to experience the long-lasting health and financial setbacks a cancer diagnosis causes. My new book "Cancer Prevention: Diet and Lifestyle Factors that Reduce Your Risk" focuses on cancer fighting foods and how to adopt a cancer fighting diet. Sign up for my early bird NEW BOOK list and get 50% of the book price + an e-Guide on Spirulina for weight loss, heart health, skin care, and eye health.
References:
1 – Whitney E and Rolfes SR. (2016). "The Carbohydrates: Sugars, Starches, and Fibers"; in Whitney E and Rolfes SR. Understanding Nutrition. Stamford, CT: Cengage Learning, pp: 123
2 – Holmes ZC, et al. Microbiota responses to different prebiotics are conserved within individuals and associated with higher fiber intake. Microbiome. 2022;10:114
3 – Mathers JC, et al. Cancer prevention with resistant start in Lynch Syndrome patients in the CAP2-15: randomized placebo controlled trial: planned 10-year follow up. Cancer Res Prev. 2022;