FAST-FACTS FROM THIS ARTICLE: It is estimated that 52,225 colon cancer cases, or 38.3%, are due to poor diet in the U.S. (read more…)
DOWNLOAD FREE STUFF: If you've ever gone to the doctor and said "this time I will ask lots of important questions about my health," then this post is for you. Download the 5 Day Cancer-Fighting Smoothie Challenge so you can start eating (or rather drinking) more fruits and vegetables. The next time your doctor asks "do you have any questions," ask their opinion about the role nutrition plays in cancer prevention, including the info presented below: colon cancer prevention.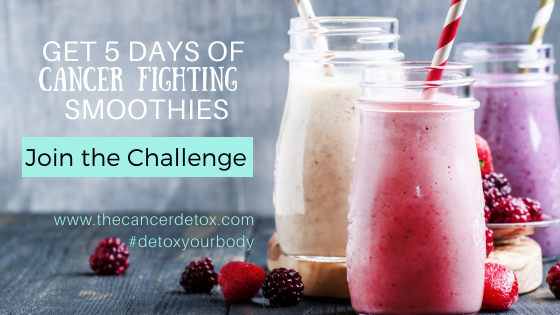 Colon Cancer Symptoms
Colon cancer, also known as bowel cancer or colorectal cancer, is an adenocarcinoma (glandular cancer) that involves the large bowel. The large bowel is called the intestines. Colon cancer symptoms include: 1) bowel changes that can occur such as diarrhea or constipation, 2) bleeding, 3) feeling as if you did not have a bowel movement even after having one, 4) abdominal swelling or distention, 4) gripping abdominal pain (colic), 5) weight loss, 6) tiredness, 7) lassitude, and or 8) liver enlargement because the cancer has spread (metastasized) to the liver [1].
Colon cancer was the third most frequently diagnosed cancer globally in 2018, according to the GLOBOCAN report. This report stated it was the second leading cause of death globally.  Colon cancer treatment involves surgical removal of the cancer from the large intestines. The cut ends of the bowel are joined together. Sometimes chemotherapy and radiation are added (adjuvant) to surgical treatment.
Colon Cancer Prevention
March is colon cancer awareness month and at The Cancer Detox our mission is to educate everyone about lowering their risk of cancer or prevent a recurrence. A recent report (Zhang, et al) found that 38% of colon cancer cases in the U.S. may be preventable. Colon cancer is most commonly diagnosed in Western societies (e.g. Europe, North America) which includes a diet of red meat, processed meat (e.g. bacon, sausage), refined sugar, and refined flour.
This study reported that colon cancer was the #1 cancer associated with a poor diet [1]. The authors of the study used the National Health and Nutrition Examination Survey (NHANES) which tracked the dietary intake of individuals who participated in this survey for two consecutive years. They reported an estimated 80,110 of cancer cases were due to a suboptimal diet, and the number of estimated colon cancer cases due to a suboptimal diet was 52,225.
What is a "Poor Diet?"
According to the study authors Zhang, et al [2] a poor diet consists of the following:
Eating less than 3 servings of whole grains a day
Eating less than 4 servings of vegetables a day
Eating less than 3 servings of fruit a day
Eating more than 1 serving of red meat a week
Eating more than 0 servings of processed meat a day (more than 0 means eating just 1 serving of processed meat a day)
Drinking more than 0 servings of sugar-sweetened beverages a day (more than '0' means drinking just 1 serving a day)
The authors of this article stated that overall a poor or suboptimal diet is associated with 5.2% of cancer cases in the U.S. So one of the easiest ways you can stop increasing your risk of colon cancer is by eliminated red meat, processed meat and sugar-sweetened beverages. You should then increase the amount of fruits, vegetables, and whole grains. What other lifestyle habits can contribute to cancer?
About The Cancer Detox
We are Cancer Patient Advocates based in Atlanta, GA with a staff of Scientists, Health Coaches and Pharmacists. Our mission is to significantly improve the survival outcomes of people with cancer, and educate everyone about natural prevention to lower your risk or avoid a recurrence. Our premier program is The Cancer Detox Prevention course, which guides you through 24 cancer-fighting foods and strategies, with a 60 page e-book, 4 audio books, and 2 personalized health coaching calls. Sign up today!
References:
Zhang FF, et al. Preventable cancer burden associated with poor diet in the United States. JNCI Cancer Spectr. 2019;3.
Stephens FO and Aigner KR. Basics of Oncology. 2016. Springer Press.